This is a special feature that has been produced or updated for National Health Center Week (NHCW). NHCW brings awareness to the various challenges health centers and their patients face and recognizes that patient health starts at the heart of their communities.
Health Center patients are a unique population that require special care needs. Patients are typically medically underserved and rely on Community Health Centers (CHCs) for their health needs. Health Center patients are more likely to be low income, be racially/diverse and be unemployed working-age adults with higher rates of unemployment and lower rates of insurance coverage.¹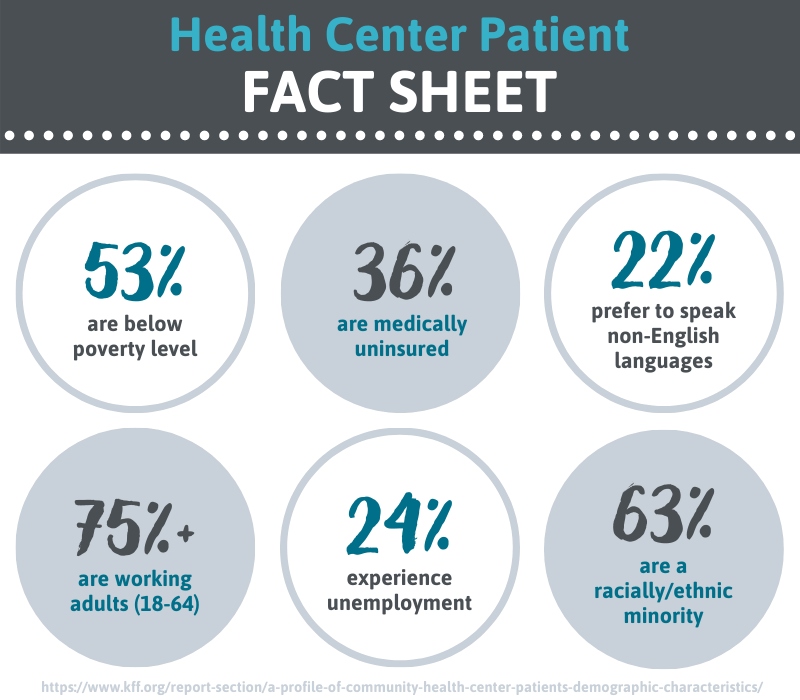 Health Center patients also continue to report poorer health status. They commonly have more chronic conditions with 25 percent claiming 2 or more chronic conditions. Mental health is also more common with half reporting depression and a third reporting anxiety. Patients also have higher rates of smoking and obesity.²
Community Health Centers ultimately exist to serve their community's underserved patients in hopes of closing the gap in our nation's health care system. The responsibility lies on the Health Center to meet be able to meet all the needs of their unique patients, whether that be providing optimal care, financial assistance or be willing to use another language besides English. 
Patients also serve another important role to Health Centers than just receiving care and assistance. According to the Health Resources & Services Administration (HRSA), health center boards must be made up of at least 51 percent consumers.³ This means they are served by the Community Health Center in some way, either a patient or representative of one. This model ensures the board represents the needs of the community and is a representative voice for the underserved population to make certain they receive the best quality care.⁴
Value-Based Care vs. Patient-Centered Care
Because of the disparities patients in these underserved populations face, value-based care (VBC) and patient-centered care (PCC) are key models for advancing health outcomes. The goal is for the two to be complimentary, but oftentimes regulation roadblocks can make a conflicting situation. CMS has announced its plans to make VBC a priority by 2024, but the model can put so much administrative burden on providers, at times, it can render itself ineffective to its mission. At its core PCC should include: 
Collaborative, coordinated and accessible care

Care focused on physical, as well as emotional wellbeing

Care that takes into account patient and family preferences, cultural traditions and socioeconomic status 

Patients and their families are considered part of the team when making decisions, rather someone who passively takes directions

The patient and their caregivers are fully educated on medical conditions and processes so they can make more informed decisions.⁵
The difference between VBC and PCC is that patient-centeredness is just one quality measure in VBC, while patient-centeredness in PCC expands into multiple domains as noted in the list above. Other important quality measures for VBC include: 
Effectiveness and efficiency to reduce readmission rates

Timeliness in providing care

Focusing on patient safety and preventative care

Equitably serving all demographics in a patient population⁶
The main obstacle preventing the two models of care from working in tandem is administrative burden. In 2016, it was estimated that the average-sized medical practice spends 785.2 hours ($40,069 per physician, $15.4 billion per year in the aggregate) reporting on quality measures that do little to help improve care or help patients make decisions about their treatment.⁷
The aggregate cost of dealing with billing issues and claim denials is $54 billion, just for outpatient visits. This is important to note, especially for providers reimbursed by CMS, as the Medicaid program denies initial claims at a rate 17.8 percent higher than other payers.⁷
Even under the quality payment program (QPP), the Merit-Based Incentive Payment System, still rewards and penalizes based on provider performance, which inherently leaves the patient out of the center.⁷ These cumulative administrative hurdles detract focus away from the patient and undermine the purpose of these models.
Community Health Centers have the task of not only providing care, but making sure their patients have a voice and feel a part of their community. This will include lobbying government officials and policymakers for better changes to VBC and PCC to help align these models for the benefit of the patient. 
OUR OBSERVATION: Patients are at the center of health care, which makes their voice invaluable for the representation of their communities. Patient engagement keeps health centers accountable so that the best services can be provided for the medically underserved. Patients must continue to be encouraged to voice their needs to ensure optimal care for their unique needs. 
OUR SOLUTION:  Certintell's telehealth solutions encourage patient-centered care through the care team model. This care can be a check-up after being discharged from the hospital (see Transitional Care Management) or more complex care like Chronic Care Management or Behavioral Health Integration. These care teams include not only the provider and other required specialists, but also the patient to ensure their involvement and voice is heard throughout their entire health care process. Integrating telehealth solutions into the existing workflow can also save providers and patients money.⁴
GET ACTIVE

➠ Voter registration. Learn more about advocacy and civic engagement during the election year here. Register to vote so your voice is heard!

➠ Engage the local CHC board for advocacy.  Learn more about the Board Member Advocacy Certificate.
This article was first featured as a part of Certintell's 2019 National Health Center Week efforts to support the awareness, advocacy and celebration of Community Health Centers during the annual week-long event. The original content has been expanded to provide more value to the reader.
SOURCES: 
¹ "A Profile of Community Health Center Patients – Demographic Characteristics." Henry J. Kaiser Family Foundation, 8 Jan. 2014, www.kff.org/report-section/a-profile-of-community-health-center-patients-demographic-characteristics.
² "A Profile of Community Health Center Patients – Health Status." Henry J. Kaiser Family Foundation, 8 Jan. 2014, www.kff.org/report-section/a-profile-of-community-health-center-patients-health-status.
³ "Chapter 20: Board Composition | Bureau of Primary Health Care." 29 July 2019, bphc.hrsa.gov/programrequirements/compliancemanual/chapter-20.html.
⁴ "Telehealth Offers Cost Savings Opportunities for Hospitals and Patients." URAC, 3 July 2019, www.urac.org/blog/telehealth-offers-cost-savings-opportunities-hospitals-and-patients.
⁵ "What Is Patient-Centered Care?" NEJM Catalyst, 17 Jan. 2017, catalyst.nejm.org/doi/full/10.1056/CAT.17.0559.
⁶ "5 Quality Measures That Matter for Value-Based Care." Managed Healthcare Executive, 13 Nov. 2019, www.managedhealthcareexecutive.com/view/5-quality-measures-matter-value-based-care.
⁷ "Patient-Centered, Value-Based Health Care Is Incompatible With The Current Climate Of Excessive Regulation." Health Affairs, 13 Oct. 2018, www.healthaffairs.org/do/10.1377/hblog20180927.405697/full.