Health Center patients are a unique population that require special care needs. Patients are typically medically underserved and rely on Community Health Centers (CHCs) for their health needs. Health Center patients are more likely to be low income, be racially/diverse and be unemployed working-age adults with higher rates of unemployment and lower rates of insurance coverage.¹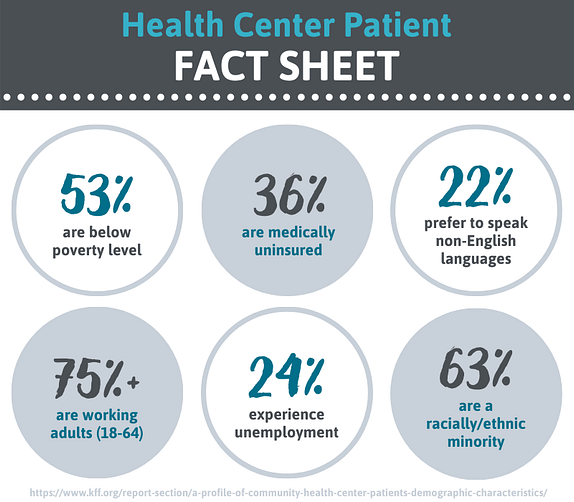 Health Center patients also continue to report poorer health status. They commonly have more chronic conditions with 25% claiming 2 or more chronic conditions. Mental health is also more common with half reporting depression and a third reporting anxiety. Patients also have higher rates of smoking and obesity.²
Community Health Centers ultimately exist to serve their community's underserved patients in hopes of closing the gap in our nation's health care system. The responsibility lies on the Health Center to meet be able to meet all the needs of their unique patients, whether that be providing optimal care, financial assistance or be willing to use another language besides English. 
Patients also serve another important role to Health Centers than just receiving care and assistance. According to the Health Resources & Services Administration (HRSA), health center boards must be made up of at least 51% consumers.³ This means they are served by the Community Health Center in some way, either a patient or representative of one. This model ensures the board represents the needs of the community and is a representative voice for the underserved population to make certain they receive the best quality care.⁴
Community Health Centers have the task of not only providing care, but making sure their patients have a voice and feel a part of their community. Health Centers care revolves entirely around the patient.
OUR OBSERVATION: Patients are at the center of health care, which makes their voice invaluable for the representation of their communities. Patient engagement keeps health centers accountable so that the best services can be provided for the medically underserved. Patients must continue to be encouraged to voice their needs to ensure optimal care for their unique needs. 
OUR SOLUTION:  Certintell's telehealth solutions encourage patient-centered care through the care team model. This care can be a check-up after being discharged from the hospital (see Transitional Care Management) or more complex care like Chronic Care Management or Behavioral Health Integration. These care teams include not only the provider and other required specialists, but also the patient to ensure their involvement and voice is heard throughout their entire health care process. Integrating telehealth solutions into the existing workflow can also save providers and patients money.⁴
GET ACTIVE

➠ Voter registration. Learn more about advocacy and civic engagement during the election year here. Register to vote so your voice is heard!

➠ Engage the local CHC board for advocacy.  Learn more about the Board Member Advocacy Certificate.
This article was first featured as a part of Certintell's 2019 National Health Center Week efforts to support the awareness, advocacy and celebration of Community Health Centers during the annual weeklong event. The original content has been expanded to provide more value to the reader.
¹ "A Profile of Community Health Center Patients – Demographic Characteristics." Henry J. Kaiser Family Foundation, 8 Jan. 2014, www.kff.org/report-section/a-profile-of-community-health-center-patients-demographic-characteristics.
² "A Profile of Community Health Center Patients – Health Status." Henry J. Kaiser Family Foundation, 8 Jan. 2014, www.kff.org/report-section/a-profile-of-community-health-center-patients-health-status.
³ "Chapter 20: Board Composition | Bureau of Primary Health Care." 29 July 2019, bphc.hrsa.gov/programrequirements/compliancemanual/chapter-20.html.
⁴ "Telehealth Offers Cost Savings Opportunities for Hospitals and Patients." URAC, 3 July 2019, www.urac.org/blog/telehealth-offers-cost-savings-opportunities-hospitals-and-patients.