Social Determinants of Health (SDOH) are conditions people are born into that impact their health.¹ Health starts in homes, schools, workplaces, neighborhoods, and communities. A person's SDOH essentially start in their own physical environment. Social determinants also include patterns of social engagement and the level of security an individual feels.¹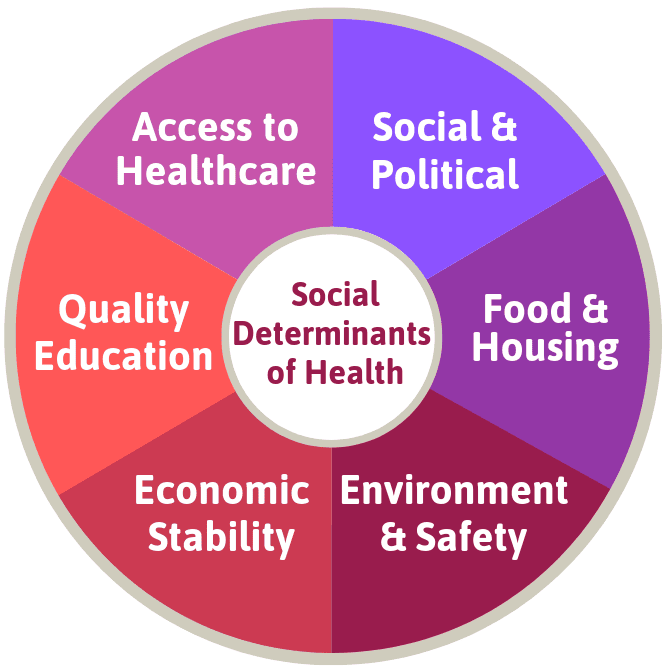 CARE GAP: A patient's social networks, environment, and economic conditions have just as much impact on their health as physical factors that can be examined by a physician. In order to properly care for a patient, treatments must positively impact their knowledge, attitudes, and motivations, as well as their physical health in a cost-effective manner. Without full understanding of a patient's social determinants of health, treatment is limited.
CERTINTELL SOLUTION: Telehealth breaks down barriers of SDOH with their services and accommodations. Certintell connects patients to providers virtually using internet-connected devices. This is beneficial to underserved populations in particular because it gives many people access to care who would not otherwise get it. By using telehealth solutions, patients can see doctors through a screen, so they do not have to physically go to a clinic. This reduces appointment costs and eliminates transportation expenses. It also saves everyone time. Certintell strives to close gaps in health care by delivering services to everyone regardless of their social determinants.
GET ACTIVE

➠ Explore how programs, practices, and policies in these areas affect the health of individuals, families, and communities. Learn what affects your health and work to promote a healthier lifestyle.

➠ Take action with PREPARE Implementation and Action Toolkit. Discover your assets, risks and experiences with this toolkit.
¹ "Social Determinants of Health | Healthy People 2020." 9 July 2019, www.healthypeople.gov/2020/topics-objectives/topic/social-determinants-of-health.