For over 40 years, agricultural workers have looked to Community Health Centers (CHCs) to fulfill their primary health care needs. Health Centers serve approximately 2.5-3 million agricultural patients in the US.¹ Although CHCs do their best, it is still a challenge to serve rural patients due to barriers to health access. Some of these barriers include;
Poverty

Frequent mobility and travel

Limited means of transportation

Lack of time efficient healthcare delivery methods

Cost of healthcare too expensive

Needed services are not offered
These challenges often times lead to agricultural workers seeking care in unnecessary emergency visits or having to find quality health care on their own.¹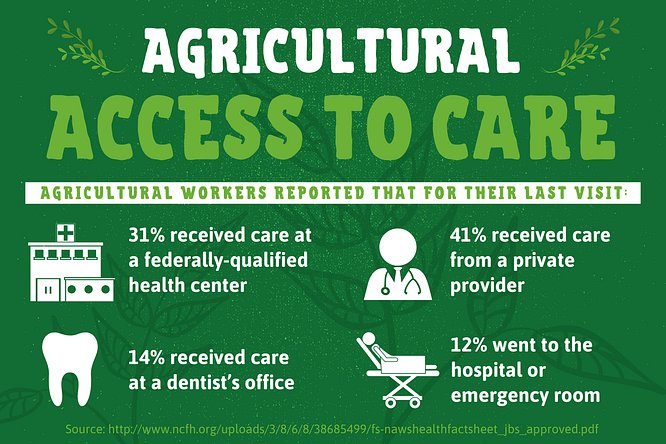 Often times the care a rural patient needs can be treated by a Community Health Cente or a Federally Qualified Health Center (FQHC).  According to a study done by the National Center for Farmworker Health, Inc., the top 5 health diagnoses for farmworkers are; 
Overweight/obesity

Hypertension

Diabetes mellitus

Otitis media & eustachian tube disorders

Depression & other mood disorders
Not one of these health conditions require hospital or emergency visits.¹
More advocates have been coming together to develop strategies to increase these workers' access to care.
CARE GAP: There are approximately 2.4 million agricultural workers employed on farms and ranches in the United States.² These workers often travel and live in rural places where access to health care is limited. This distance hindrance and other factors continues to be a barrier in giving agricultural workers adequate access to care. 
A case study done by the California Institute for Rural Studies stated that "One universal theme that emerged from interviews with providers and (agricultural) workers is that the specialists need to come to the farmworkers, not vice versa, if they are to deliver effective service."³ 
CERTINTELL SOLUTION: Certintell can close this health care gap by providing telehealth technology and software to Community Health Centers across the nation. This software makes virtual doctor visits possible through a platform that can be accessed from any mobile device. These visits can be done from any place where there is an internet connection. With these solutions, health care access is available wherever agricultural or rural workers are. 
Though means of telehealth, all the previous listed barriers to health care access would be significantly lowered. Distance, transportation and time issues would be almost completely eliminated. The cost of care for agricultural workers would also decrease due to the limit of required in-person doctor visits. Most importantly, the patient would also be able to receive their desired care. No longer would the rural patient have to seek out health care when Certintell's telehealth technology would bring health care to the patient.
GET ACTIVE

➠ Organize a mobile or in-person health screening event or health fair. View examples from Antelope Memorial Hospital. 

➠ Visit the National Center for Farmworker Health to learn about and join the Agricultural Worker 2020 Campaign. Other ways to support Agricultural workers are available on this website as well.
This article was first featured as a part of Certintell's 2019 National Health Center Week efforts to support the awareness, advocacy and celebration of Community Health Centers during the annual weeklong event. The original content has been expanded to provide more value to the reader.
¹ "Facts About Agricultural Workers." National Center for Farmworker Health, Inc., 2018, PDF File, http://www.ncfh.org/uploads/3/8/6/8/38685499/fs-facts_about_ag_workers_2018.pdf.
² "Who We Serve | Farmworker Justice." 29 July 2019, www.farmworkerjustice.org/about/who-we-serve.
³ Mines, Ph.D., Richard, et al. "Pathways to Farmworker Health Care." California Institute for Rural Studies, Sept. 2002, PDF File, http://www.cirsinc.org/phocadownload/CaseStudyCoachella.pdf.