Transitional Care Management, or TCM, is a Medicare service for doctors and specialists to monitor and continue care for patients who have been recently discharged. TCM asks that contact be made with the beneficiary within two days of discharge to a community setting. There is a subsequent face-to-face necessary within 7 or 14 days with the patient that can be administered through telehealth, even if the Medicare beneficiary is at home. According to a study done in Arizona, implementing a transitional care program reduced hospital readmission rates by 73 percent in a nine-month period, which equates to $214,192 in cost savings.¹
2020 TCM Billing Updates: There are two increases in payment — CPT codes 99495 and 99496 are set to increase to 2.36 and 3.1 work relative value units (RVUs) respectively. Want to learn more about billing for TCM? Schedule a demo today, here.
In a study where three FQHCs experimented with a care model targeting dual-eligible beneficiaries (duals), or those enrolled in Medicare and Medicaid, it was found that hospital and emergency room visits can be reduced by incorporating proper care coordination. The care model focused on effective communication between patients and FTE coordinators along with notifications to care staff when the patients got admitted into hospitals or emergency rooms. When notified, the staff reached out to patients and talked to them about transitional care and community resources and relayed their needs to primary care teams. The results of this study showed a 34 percent reduction in total hospital admissions and a 25 percent reduction in total ER visits, both significant changes. This study suggests that FQHCs that furnish the TCM model for duals could mean a reduced number of avoidable trips to the hospital and less billable events for Medicare and Medicaid to cover.²
Value-Based Care Highlight: TCM presents an additional opportunity when they shift their focus to value-based care and increase their chances of receiving a 5% AAPM bonus. This incentive is given to eligible health centers who serve a certain level of patients or payments through Advanced Alternative Payment Models.³
An additional study looked at 19 million Medicare claims following three years of TCM reimbursement showed cost-effective results:
"A recent observational analysis, looking at nearly 19 million Medicare claims for the first three years that TCM reimbursement was available, was encouraging in terms of cost-effectiveness. When patients got TCM services, their costs were on average lower for a subsequent 30-day period, $3,033 versus $3,358 for those who lacked the support, according to findings published in September in JAMA Internal Medicine. Mortality rates during that same stretch also were lower in the TCM group, with 1% of patients dying versus 1.6% of patients who got usual care."⁴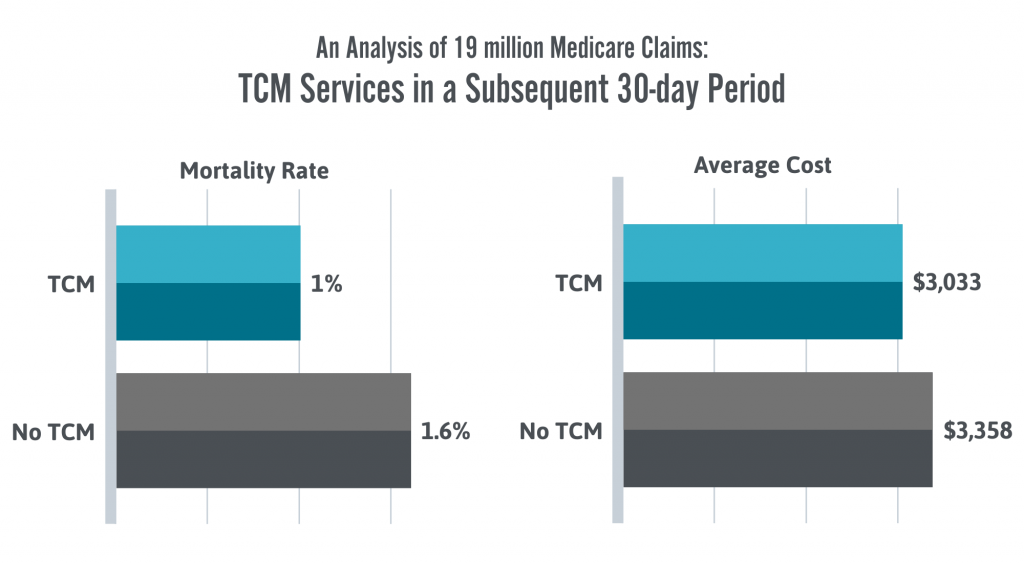 Supporting TCM with Certintell Health Coaches in an opportunity any FQHC can take advantage of to better support patients and prepared for the shift to value-based care.
Sources
¹ Logue, M.D., Drago, J. Evaluation of a modified community based care transitions model to reduce costs and improve outcomes. BMC Geriatr 13, 94 (2013). https://doi.org/10.1186/1471-2318-13-94
² Doyle, Daniel, et al. "Improving the Care of Dual Eligible Patients in Rural Federally Qualified Health Centers: The Impact of Care Coordinators and Clinical Pharmacists." Journal of Primary Care & Community Health, Apr. 2016, pp. 118–121, doi:10.1177/2150131915617297.
³ "Advanced APMs." Quality Payment Program, Department of Health and Human Services, qpp.cms.gov/apms/advanced-apms.
⁴ Huff, Charlotte. "Transitional Care Can Be Effective, Underused." ACP Internist, 1 Nov. 2018, acpinternist.org/archives/2018/11/transitional-care-can-be-effective-underused.htm.