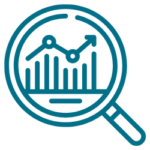 It's no secret that data has been paving the future for quite some time now. In the healthcare industry, data is becoming indispensable to create a value-based care environment. 
The Healthcare Information and Management Systems Society (HIMSS) held its annual conference for 2022 in Orlando, FL. There, the administrator for the Centers for Medicare and Medicaid (CMS), Chaquita Brooks Lasure, advocated for higher interoperability standards. Lasure said that data is necessary to identify gaps in the healthcare system. The CMS director speaks to a larger trend, one in which technology is becoming an increasingly important tool to promote health equity and streamline workflows.¹
In the same vein, in April 2022, the Health Resources and Services Administration (HRSA) announced it would be dedicating $90 million, from the American Rescue Act, toward improving the Uniform Data System (UDS) reporting system.¹
UDS is a reporting system used by federally-funded health centers in the United States to collect and report data on their operations, patient demographics, and clinical services provided.
The reporting requirement is an essential component of Health Center compliance with the statutory requirements of Section 330 of the Public Health Service Act. This act provides federal funding to community health centers to provide primary health care services to medically underserved populations.
Each year, health centers report out on patient demographics, clinical services provided, staffing levels, and financial performance. The data collected through the UDS reporting system is used to assess the performance of health centers and to inform policy decisions about the allocation of resources and the provision of health care services to underserved populations. 
However, with new funding, HRSA launched the Uniform Data System Patient-Level Submission (UDS+) Modernization Initiative. The overarching goal is to collect more and better data on social determinants of health and increase the quality of data reporting for health centers.¹
In a February webinar, the Health Information Technology Training and Technical Assistance Center (HITEQ) anticipated that the following data elements will be crucial in UDS+, but notes that HRSA will have final say²:

Patient medical insurance as of last visit 

Patient race, ethnicity, language, sexual orientation, and gender identity 

Patient income 

Selected patient diagnoses 

Selected patient services (labs, studies, tests, screening results) 

Selected patient medications 
Currently at the health center level, data is submitted at the aggregate level. This new initiative, however, aims to disaggregate and de-identify collected data to help better understand unique characteristics of certain populations and provide more targeted care.³
The Office for the National Coordinator for Health Information Technology (ONC) is using this initiative as an opportunity to work with HRSA and align UDS with the United States Core Data for Interoperability (USCDI), as well as Fast Healthcare Interoperability Resources (FHIR) standards.³
HRSA is currently testing UDS+ with a select number of health centers, Primary Care Associations (PCAs), Health Center Controlled Networks (HCCNs) and EHR vendors. Results of this proof-of-concept testing are expected to be first released near Q2 of 2023, with updates occurring throughout the year. CMS hopes to expand implementation for UDS+ for reports due in 2024. 
We'll continue to update this blog and summarize project findings as they come up throughout the year. Be sure to check back! 
Preparing in the Meantime
Nevertheless, health centers don't have to wait for these initial results to be released to start preparing for this transition in interoperability standards. 
HITEQ lists four steps health centers should consider when they begin to operationalize for UDS+ ²:
Assess internal processes for non-standard documentation in the areas that will be impacted by UDS+.

Evaluate processes for why exactly documentation is not standardized; update policies, procedures, training, etc.

Standardize that documentation within the record, which may involve using an aggregation platform or tool.

Monitor on an ongoing basis for consistency and progress. 
Health centers will also need to think of possibly hiring a person to assist with disaggregating data, HITEQ suggests. This could be in the form of a "Trust Service Provider" whose responsibility is to deliver services including pseudonymization, anonymization, de-identification and re-identification.²
How Certintell Can Help
UDS+ measures also directly coincide with population health segmentation measures. In some of Certintell's previous blogs, we've spoken about how health centers can effectively segment populations using existing data, which you can explore here. 
In these blogs, you'll find that we recently started talking about our proprietary health data reporting platform, ConnectCareTeam, which helps streamline the data collection and reporting process as well. ConnectCareTeam can be a diverse tool health centers can use as UDS+ modernization efforts accelerate. Our platform collects information on social determinants of health, as well as Remote Patient Monitoring (RPM) programs in which patients with chronic conditions are enrolled. All this is connected to your organization's EHR through a hands-off process using one of our trusted partners. 
Reach out to us today to see how we can help prepare you for UDS+! 
SOURCES: 
¹ Lagasse, Jeff. "HHS Puts $90 Million Toward Addressing Health Disparities Through Data." Healthcare Finance News, www.healthcarefinancenews.com/news/hhs-puts-90-million-toward-addressing-health-disparities-through-data. Accessed 21 Mar. 2023.
² HITEQ Center. Preparing for Patient-Level Reporting: UDS+ and More. 21 Feb. 2023, file:///C:/Users/Team%20Member/Downloads/Preparing%20for%20Patient%20Level%20Reporting_%20UDS+%20and%20More_Feb%2021%202023%20Slides.pdf.
³ Nelson, Hannah. "ONC, HRSA Partner on Uniform Data System Interoperability Initiative." EHRIntelligence, 30 Aug. 2022, ehrintelligence.com/news/onc-hrsa-partner-on-uniform-data-system-interoperability-initiative.
---
RELATED ARTICLES