Remote Patient Monitoring (RPM) and Chronic Care Management (CCM) have very similar end goals, one of which would be improving patient health through connected care. They also have distinct differences. Knowing where they converge and where they diverge can help providers maximize their potential and possibly combine their powers. 
Separate Definitions
Remote Patient Monitoring is a modality of telehealth, or simply a system to deliver it. It uses digital technologies to record and transmit patient physiological data automatically with the intent to develop or to manage care plans. 
Chronic Care Management is a Medicare program that is defined as care coordination beyond a regular office visit. 
Key Differences
Number of Chronic Conditions: CCM requires the patient to have two or more chronic conditions for treatment to take place. RPM does not require a number of conditions. CMS established in the 2021 Final Rule that these conditions could be acute or chronic.¹
Care Activities: RPM duties can include the logging/interpretation of incoming data and communication with the patient about said data. There are different CPT codes depending on what characteristic of RPM the provider wants to utilize (see below in "RPM + CCM"). For example, a provider chooses whether they want to focus more on patient understanding of data or the collection and organization of data itself. 
CCM duties can include: 
Monthly revision of the care plan

Routine assessment of a patient's physical, mental and social needs

Discussion of preventative care services

Assessment of medication adherence

Evaluation of patient self-management
Time Requirements 
Physiological data must be recorded at least 16 days out of the month for RPM to be successfully billed. If a provider is billing for the RPM CPT code 99457, this requires them to carry out synchronous interactive communication with the patient about the data in addition to data analysis. This interaction must include audio conferencing, with the capability of being enhanced by video. RPM services can be billed in 20 minute increments.²
The minimum amount of time to be spent on CCM services every month is 20 minutes. This includes clinical staff time directed by a physician or other qualified health professional. CCM services can be billed in 20 minute increments. However, if the amount of services billed will routinely amount to or exceed 60 minutes, it's recommended that physicians bill a complex care code that starts at a billing requirement of 60 minutes monthly.¹
RPM + CCM Together
When the qualities of the two services are well understood, it's even easier to envision them both in action, synchronous and adaptable to a clinician's needs. 
"The coupling of RPM and CCM makes sense because they are highly complementary; RPM has the doctor access and analyze data real-time throughout the month, and CCM has the doctor intervene and guide the patient's care throughout the month,"
says this Foley article.²
While eligible duties under RPM and CCM can resemble each other, clinicians can strategically choose which ones they want to execute from each to maximize their efforts during the month, seeing as RPM and CCM are able to be billed in the same period. CMS encourages the "stacking" of these two services in the same month, so long as physicians do not double count the minutes.²
For example, if a clinician wanted to spend more time ensuring the patient understands their health data, when billing for RPM, the clinician could use CPT code 99457. This code has interactive, synchronous communication built in as a requirement. This then frees up time in the CCM service to perform duties such as care coordination with other providers, updating health records and care plans and monthly clinical chart reviews.
Conversely, if the clinician wants to spend more RPM time reviewing daily physiological recordings and alerts, they could bill CPT code 99454. This could then allow for CCM time to be spent on patient communication and understanding through activities such as audio/video visits, the drafting of patient letters and portal messaging. 
Here's a full list of non-face-to-face CCM services that are eligible for reimbursement: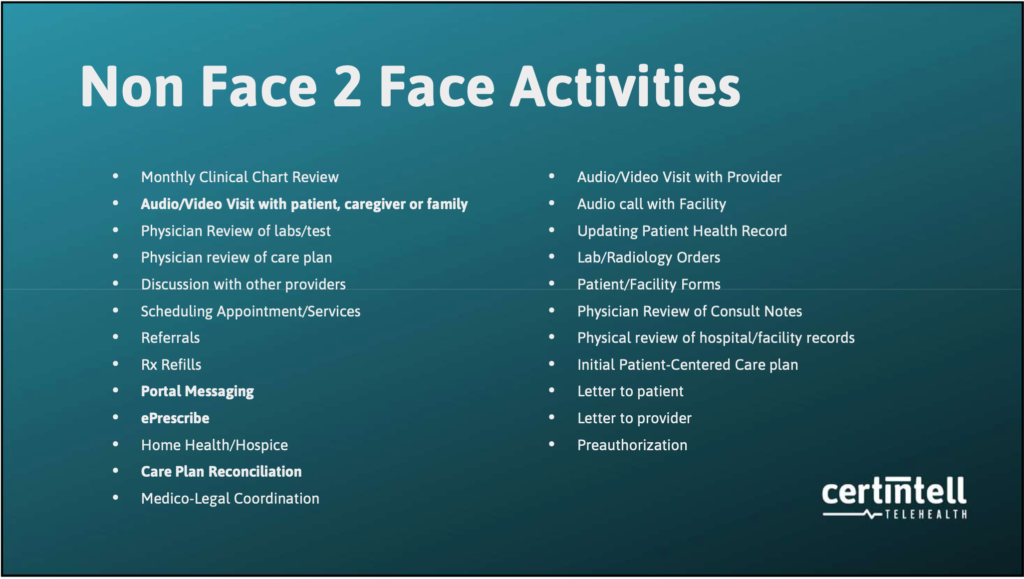 As you can see, clinicians gain flexibility when harnessing the two programs, which makes tailored care easy to execute. This becomes increasingly important in a value-based care environment. 
Using RPM and CCM together can help improve care in aspects such as: 

Patient communication and understanding

Medication and treatment plan adherence 

Medication and treatment plan reactions

Increased patient trust in the provider
How We Can Help
If you're ready to see the truth in numbers, we can help you interpret your findings. Certintell's proprietary telehealth platform sets you up for success by providing everything you need to conduct RPM and care management services effectively. This means our platform has audio and video capabilities for visits, patient data integration, messaging portals for communication between providers and patients and providers with other clinicians. 
We can also supply your patients with RPM devices that come out of the box ready to collect and send data to the platform, we even take care of patient education and setup. Our RPM devices include weight scales, pulse oximeters and blood pressure monitors. They work without the need for WiFi, so that connectivity isn't barred by other factors such as location.
If further help is needed, our certified and trained health coaches can conduct video visits with patients to help support behavior change, medication understanding and health literacy through data. 
SOURCES: 
¹ Aetonix. "Differences Between Remote Patient Monitoring (RPM) and Chronic Care Management (CCM)." Aetonix, 10 Sept. 2020, aetonix.com/telehealth-remote-patient-monitoring/differencebetweenrpmandccm.
² Llp, Foley &Amp; Lardner. "2021 Medicare Remote Patient Monitoring FAQs: CMS Issues Final Rule." Blogs | Health Care Law Today | Foley & Lardner LLP, 7 Dec. 2020, www.foley.com/en/insights/publications/2020/12/2021-remote-patient-monitoring-cms-final-rule.
---
RELATED ARTICLES